Ordering online food is now part of our daily life. Some people do online food business, some provide food recipes and some sell the food items. If you are a cooking specialist and you want others also should know the recipes you made, you will absolutely create a website. If you are in a food business, you may want to sell your food items online. Love to WordPress that has all kind of themes for us to use for any purpose. There are hundred of WordPress themes for food & recipes, but here in this article, I'm sharing a list of 14 Best Food & Recipes WordPress Themes for you.
1. Food Blog
The Food Blog is the perfect blog to jump start your career in recipes, food photography and blogging, or just to show off your talents to friends and family. Its large homepage slider area lets your latest recipes shine, and the photo-friendly content area gives your photography center stage. Food Blog Theme also ships with a photo-centric Recipe Index page to easily search via category and a Recipe Builder plugin to make it easy to create good-looking recipes on the fly that are also optimized for search engines.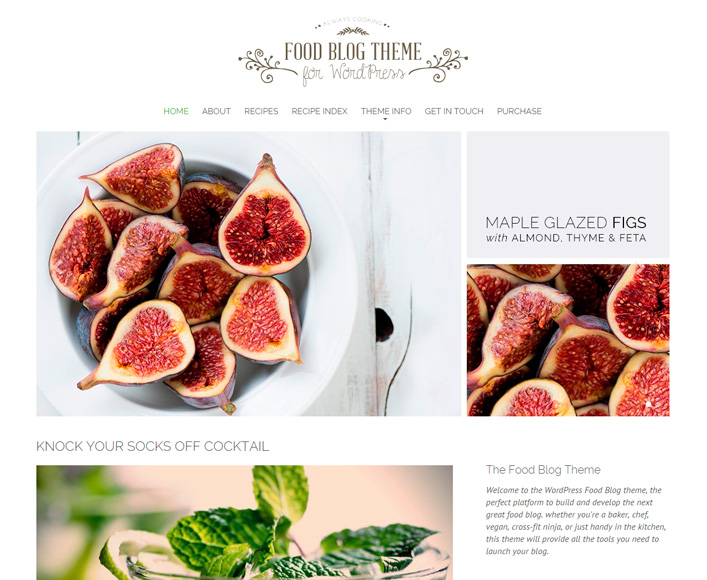 2. Cafeteria Responsive WordPress Theme
Cafeteria Responsive WordPress Theme – is the best template for people, who's going to create a cafeteria web site, or a restaurant web site, or other types (bistro, bar, fast food, cafeteria etc)
3. CookingPress – Recipe & Food WordPress theme
CookingPress WordPress theme has 4 designs, coda slider, flex slider, shortcodes, page templates, recipe creator, sidebars, 3 layouts to display posts and responsive design.
4. Food Recipes – WordPress Theme
Food Recipes WordPress theme is a very beautiful and feature rich theme only designed for food & recipes websites. So cooking experts and professional chefs can adopt this design for their website. It has 10 custom widgets, easy theme options, full width page template, various shortcodes, fax page, threaded comments, IP based recipe rating feature, recipe views counter and much more.
5. Ristorante Responsive Restaurant WordPress Theme
Ristorante Responsive Restaurant WordPress Theme is only made for Cafes, Bars and Restaurants. It has robust HTML design with MVC framework. It has Timthumb library for nice thumbnails, while label admin side, AIT dashboard, custom css integration, image & template caching, shortcode generator, unlimited color settings, MVC templating engine, over 200 fonts and many admin panel options.
6. Delicieux – Restaurant WordPress Theme
Delicieux Restaurant WordPress Theme has social links on header, price table, social share for posts, logo uploader, font uploader, built-in shortcodes, drag drop slider manager, page builder 8 blog styles, 6 footer layouts and unlimited colors.
7. Palazzo Di Sole – WordPress Theme
Palazzo Di Sole WordPress Theme is a good choice for bistro, pub, bars and restaurants. It has over 6 custom widgets including featured page, testimonials, banner, latest posts, 3 custom post types including locations, testimonials and menu.
8. Ingredients – A Fresh Recipe WordPress Theme
Ingredients A Fresh Recipe WordPress Theme allows you to showcase your yummy recipes with anyone on the internet. It has recipe custom post type, review custom post type, unlimited color options, theme options panel widgetized footer, user accounts section, built-in contact form and localization support.
9. Cooking Lovers – Responsive WordPress Theme
Cooking Lovers is a Responsive WordPress Theme for those who are planning to build an online restaurant, cooking blog or online food store.
10. Arapah – Modern Culinary WordPress Themes
Arapah is a Modern Culinary WordPress Theme with 5 page layout template, and unlimited colors with 4 predefined color options including Cerulian, Carmine, Byzantium and Auburn.
More Info
11. Delicioso WordPress Recipe Theme
Delicioso WordPress Recipe Theme is an amazing look theme powered by WordPress. It has theme options panel, switchable sidebars, breadcrumbs, widgetized sidebars, 9 custom widgets, 4 different layouts, sitemap page template, bookmarks page template and much more.
More Info
12. Taste of Japan – Restaurant / Food WordPress Theme
Taste of Japan WordPress theme is best suited for your company offering foods and drinks, wineries, bars, pubs and restaurant. It has outstanding design which has team members section, upcoming events section, menu with prices and detailed galleries with recipes.
13. Forkbite – Food Recipe and Restaurant theme
Forkbite is a Food Recipe and Restaurant theme with layer slider, sidebar management, gallery management, recipe management and layer slider.
14. Sushi – Restaurant & Food Theme
We bring to you an awesome Restaurant and premium food theme design from wordpress food themes which has specifications best suited to fit in food industry businesses.
15. SaltKitchen-Restaurant Food Recipe Theme
SaltKitchen-Restaurant Food Recipe Theme comes with very nice and friendly design from wordpress food themes list. This is exactly restaurant website should be. This theme also comes with super extensive admin panel. It has tons of features.
16. Sweet Cake – Responsive WordPress Theme
Sweet Cake is a one page Responsive HTML5 CSS3 Theme from wordpress food themes for WordPress perfect for your business. The graphic is very sweet and creative, is ideal for bakeries, ice cream shops, restaurants and cake designers but if you want you can change the colors to adapt the theme for all activities.
17. The Kitchen Table: Responsive Recipes WP Theme
The Kitchen Table is a super simple recipes theme for WordPress food websites. Using built-in features of WordPress, The Kitchen Table is super easy to manage and control using the theme customizer.
18. WindCake – OnePage WordPress Theme
Wind Cake is a one page WordPress theme, perfect for your choice. The theme is very sweet, cute and unique, is ideal for bakeries, ice cream shops, gift shops and more.
more info
19. Iron Bull Restaurant WordPress Theme
A premium responsive wordpress restaurant theme. Customize this anyway you like. This included google maps, a sticky navigation with scrollspy.
20. Eldar – Responsive and Retina Multi-Purpose Theme
Eldar is responsive retina ready one+multi page WordPress theme for creative and beautiful restaurants, hotels, weddings, creative agencies.
more info
Savory – Responsive Restaurant WordPress Theme
Savory is a responsive WordPress theme for restaurants, diners, bars, pzzerias, coffee shops, etc. The theme comes bundled with the Retail Menu Cards plugin, allowing you to easily create menus using an interface you're already familiar with.
more info
LaMonte – Modern Restaurant WordPress Theme
LaMonte is a modern restaurant WordPress theme. This theme suitable for restaurant, food, cafe, business and portfolio sites.
more info
Tasty Crunch – Food Recipe and Restaurant theme
Tasty Crunch is a wordpress theme specially designed for Food Recipe and Restaurant websites. This template is easy to modify and ready to be up and running out of the box.
Gourmet – Restaurant Bar Hotel WordPress Theme
Koyorest – Responsive Retina WordPress Theme
Responsive&Retina ready design
Dark and Light styles
Six color proposition
Seven background examples
Powerful Shortcode builder and rich set of options
Barnelli – Restaurant Responsive WordPress Theme
Barnelli is a minimal and highly responsive WordPress theme, designed for all you restaurateurs out there. This is not just a generic "theme" that can fit into all businesses.