Following is a collection of Best WordPress Themes 2015. These WordPress themes 2015 include WordPress themes for every category and some of the WordPress themes are totally free.
These free and paid responsive WordPress themes 2015 are WordPress 3+ ready with all the features you need with your custom WordPress theme. These 2015 free WordPress themes are truly original choice for showcasing your illustrations and artwork with balance and style. Enjoy a collection of top free and paid WordPress themes 2015.
The list at the top are the top 5 downloaded free and premium responsive WordPress themes 2015.
Top 5 Best Free WordPress theme
The Most Popular Free Theme: Zerif Lite
Zerif Lite is an easy to customize free WordPress theme that is great for any business. This theme supports all major browsers and is WooCommerce Compatible, Multilingual Ready (WPML), RTL-Language Support, Retina-Ready, Search Engine Friendly and W3C Markup Validated.
2. Simple Theme
The Simple theme offers you unparalleled creative license to build the business website of your dreams. Choose from hundreds of theme options, full-width banner, fonts, and an infinite array of color choices. This theme also provides tools so you can customize your frontpage to make it perfect for your business.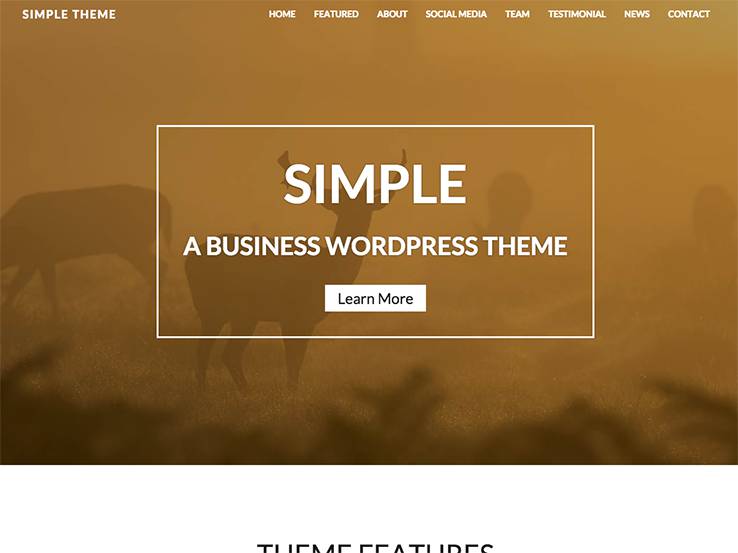 3. CW Business Lite
CW Business Lite is another amazing free theme that has a clean one page design. With localization support, all your visitors will have the option to interact with you via your website. Easy to customize tools are also available for those who aren't too keen when it comes to coding.
4. Business Theme
The ultimate business WordPress theme for small businesses, startups, contractors, and professionals, the Business theme has a huge number of features rolled into one killer theme. Look for a beautiful row-based frontpage layout that puts your products and services first! This is a must-see free theme!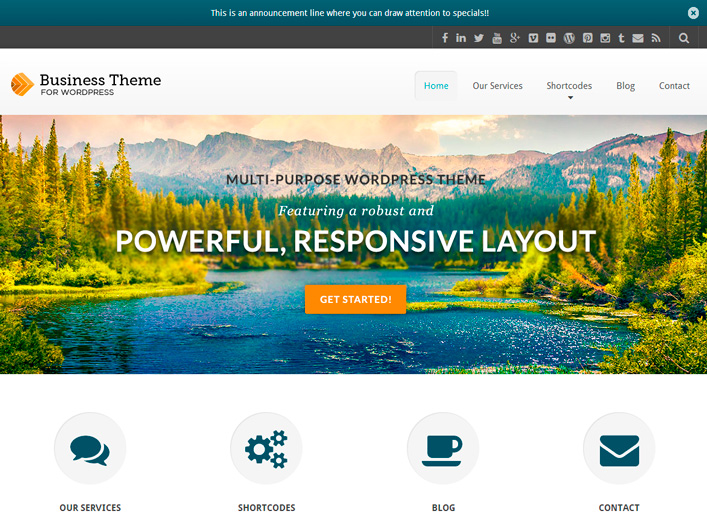 5. Soliloquy
If you're looking for a high-impact WordPress theme for your personal blog or business website, Soliloquy is the perfect fit. The Soliloquy theme is designed provide an image-rich experience so your visitors are wowed and want to dig deeper into your website. Choose from hundreds of font, colors, and layout options.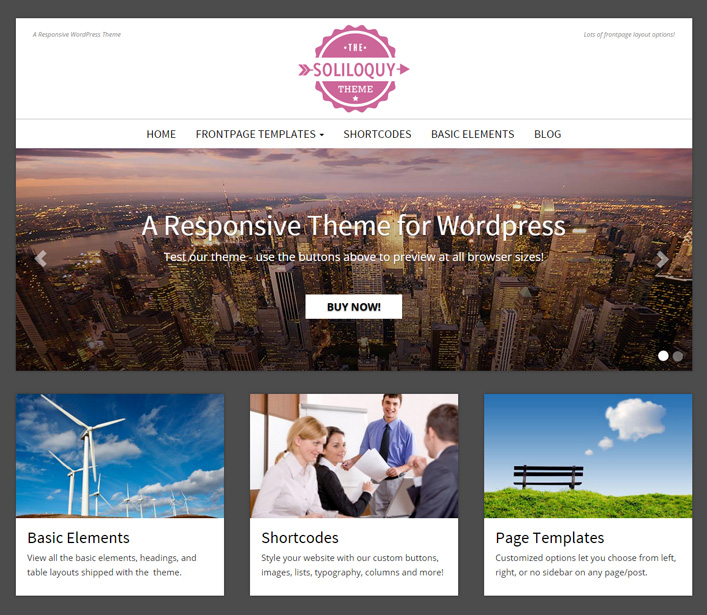 Top 5 Best Premium WordPress theme
This template is the weekly top seller template in the history of the famous marketplace Envato.
Avada is the ultimate multi-purpose WordPress theme. It is clean, super flexible, responsive, includes Fusion Page Builder and comes packed with powerful options! This multi-purpose WordPress theme sets the new standard with endless possibilities, top-notch support, and lifetime updates with newly requested features from our users. And its the most easy-to use theme on the market! Avada is very intuitive to use and completely ready to operate out of the box. Built with HTML5 & CSS3, a lot of thought and care went into this theme making it a pleasure to use.
The theme is built with SEO best practices in mind. It uses clean, semantical and valid HTML code and CSS so search engines can index the content of your site with ease. Important content is always placed before unimportent in your source code (eg: Blog Post content before Sidebar), Headlines are wrapped in heading tags (h1, h2, h3 etc) to signalise their importance to search engines.
BRIDGE is a retina multi-purpose WordPress theme built on very powerful and flexible framework by QODE. You can import content from any of the example demo sites. Choose amazing design, import pages and settins with easy to use one click import demo content feature and start working on it in a minute. Bridge is not just a theme, it's a collection of amazing examples with tons of features.
BeTheme is the best product we ever did. This is more than just WordPress theme. Such advanced options panel and Drag&Drop builder tool give unlimited possibilities. To show you how theme works, we have created 15 thematic websites so you can see how amazing this product is.
Cirrus (Free)
The Cirrus Theme offer a fabulous palette for your personal or professional website and blog. Choose from four beautiful frontpage layouts, hundreds of theme options, and infinite combinations of fonts, colors, and layouts. This theme is fast to set up and beautiful from the day it's installed.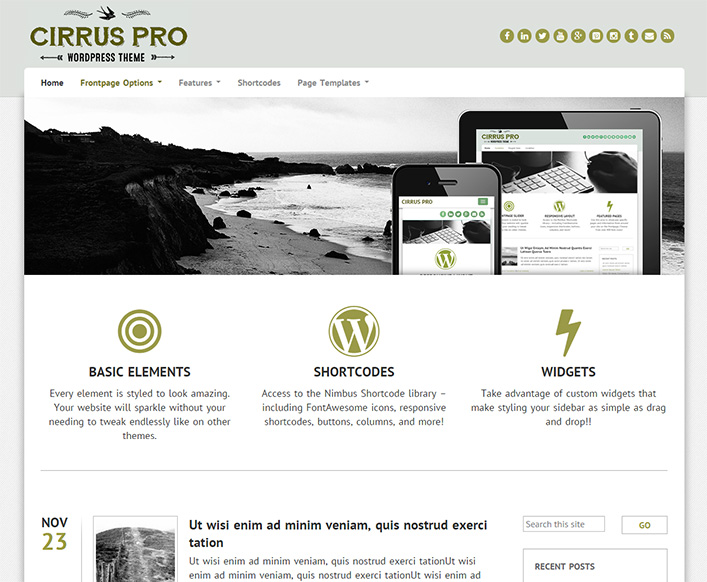 Opulus (Free)
The Opulus theme has been downloaded by hundreds of thousands of businesses and startups because it offers the perfect blend of traditional website layouts and modern aesthetic. Look for a huge array of theme options including, hundreds of fonts, and color settings. The Opulus theme is the perfect platform on which to build a business website.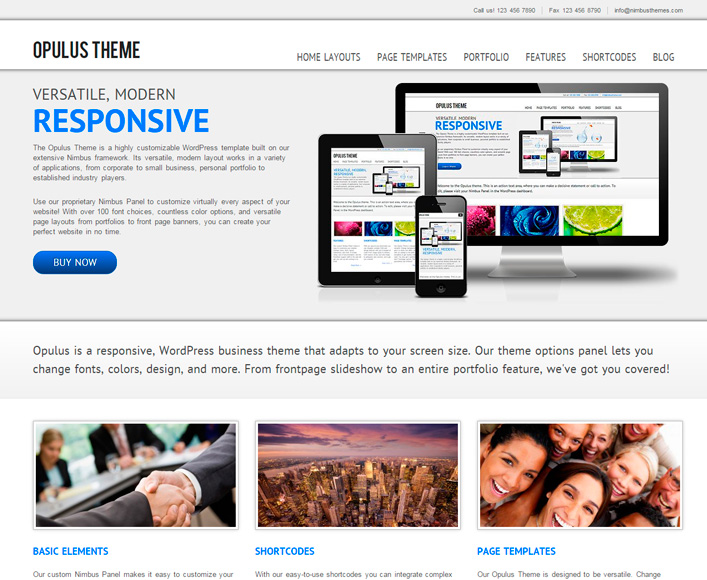 EducationWP (Free)
EducationWP is ideal solution for anyone looking for a education website or blog which is easy to update, professionally built and comes with free support, the EducationWP is  among the best WordPress themes 2015.
Sentoz
Oceanus
Quora
Pelican
GreyPress
GreyPressGray Press is a attractive free wp template, well designed and structured inside the theme admin panel.
Downtown
Downtown, a friendly wordpress theme, with a nice color scheme and beautiful design.
Torres
Torres is a single column, content centric free premium theme. The theme is built with more emphasis is presenting your content more prominently with media.
Revera
Revera is a free premium wordpress theme based on the Bootstrap 3 framework.
Uturn
Uturn is a dark toned free premium WordPress theme.
Newspress
Newspress is a news magazine wordpress theme. This is a minimalist theme for 2015.
Halifax
In my effort to bring you more responsive themes , I introduce you to my new responsive theme Halifax.
Kansas
Presenting our new wordpress theme Kansas. This is a 2 column minimalist blog theme 2015.
proEducation
proEducation is among the Free WordPress education Themes 2015 that has been designed exclusively for those who are looking for an exciting new theme for their education related websites or blogs.
Learner
Impressive education themes are usually hard to come by, but you will not be disappointed by Learner.
Education WP 2
A free education related wordpress theme.
EducationZone
The EducationZone theme is one of our upcoming and popular themes for WordPress. EducationZone is perfect for those looking for a an education website or blog that is compatible with the newest version of WordPress.
Edu
The Edu theme is one of our upcoming and popular educations themes for WordPress. Edu is perfect for those looking for a education blog or education website.
Colateral
Colateral is a very elegant wordpress themes available as free wordpress theme but also as premium (without footer links + full support).
Lifetime
Lifetime is a high quality wordpress theme, with an elegant and minimal Swiss design.
Virtual
Virtual wordpress theme is a 3 columns highly customizable theme, part of the new Mr Pixel themes series.
Deep Sea
Deep Sea is a free responsive wordpress theme 2015, one of the best design, very suitable for tech, iPhone, mobile wordpress weblogs.
Kikiberry Theme
GrayMist WordPress Theme
Avada WordPress Theme
EducationPress
For anyone looking for an education theme which can easily be translated from English, EducationPress is one of the best options on the market.
Love WP Theme WordPress Theme
A free dating / romance related wordpress theme.
Gazette WordPress Theme
Pandora WordPress Theme
UpRight WordPress Theme
LucentView WordPress Theme
Suerte – Corporate & Portfolio WP theme
Suerte is among the free wordpress themes 2015, built for your corporate/portfolio site or your personal blog. Suerte give a fresh and original perspective to your site.
more info
Bolder – Corporate & Portfolio WP Theme
Bolder is a wordpress theme that is perfect for business, blogs, and portfolios among other things. It contains 15 different skins, 3 different sliders, 3 portfolio pages.
more info
Impero – Minimalistic WordPress Theme
Impero is a minimalist and responsive WordPress Theme 2015, built for your corporate/portfolio site or your personal blog.
more info
Di'verso – A Flexible WordPress Theme
Di'verso is a fresh and clean multipurpose WordPress Theme, built for your corporate/portfolio site or your personal blog.
Sheeva – Multipurpose WordPress Theme
Sheeva is a very powerful theme with a clean, corporate and responsive layout. You can set any color to elements such as backgrounds, links, text and change the look of your site in few seconds.
Memento – A Flexible Corporate WordPress Theme
Memento is a brandable and creative theme with a clean, corporate and responsive layout.
Pinkrio – Responsive Multi-Purpose Theme
Pink Rio is a strong and powerful theme among wordpress themes 2015 with a clean, corporate and responsive layout. This theme is really suitable for a corporate/brandable site and also for personal portfolio and blog.
Samarcanda – Fullscreen WordPress Theme
Samarcanda is a multipurpose fullscreen wordpress theme that allow you to show your portfolio, images, videos with a fresh and creative perspective.
Stendhal – Clean Portfolio Theme
Stendhal is a clean, usable and powerful corporate/portfolio theme. If you are looking for a easy to use/customize theme, with a lot of portfolio features and unlimited design options, Stendhal is the best solution for you.
more info
Libra – Corporate & Portfolio WP theme
This theme is really suitable for a corporate/brandable site and also for personal portfolio and blog.
Ridizain
Ridizain is a redesigned version of the default theme Twenty Fourteen.
DMS
A responsive drag-and-drop design management system for pro websites based on HTML5 and CSS3.
more info
Sixteen
Sixteen is an artistic and responsive theme suitable for most blogs.
Intensio WordPress Theme
Flow WordPress Theme
Traveling WordPress Theme
NewsBuzz WordPress Theme
NewsEntry WordPress Theme
ShoppingTime WordPress Theme
SmartCompany WordPress Theme
TechNode WordPress Theme
Agista WordPress Theme
Spot WordPress Theme
MyTown WordPress Theme
Electra WordPress Theme
Landscaping WordPress Theme
EducationZone WordPress Theme
Opino WordPress Theme
Present WordPress Theme
Winterfell WordPress Theme
Hudson WordPress Theme
Belle WordPress Theme
MyCountdown WordPress Theme
SkyWalker WordPress Theme
Design Portfolio WordPress Theme
Revoke WordPress Theme
MyEstate
MyEstate user-friendly template make it easy to design the entire look of your website, from pagination and length of the content in the listing to layout and speed to slider.
Colorbold
Rockwell
Simplo
Simple and clean blog theme coming with 6 color styles.
SimploBlack
Simple dark and clean blog theme coming with 6 color styles.
WiseBusiness
A theme for blogs, portfolios, for all kind of businesses done right.
Xmas
Welcome the winter holidays with this nice, simple theme.
Designpile
Vintage yet clean looking theme for your blog, coming with 3 color styles.
WP Anniversary
WordPress Anniversary/Thank you Theme.
AllTuts
Sleek looking theme for tech, creative and inspirational blogs.
Webfolio
3 color styles theme for blog and portfolio showcase.
Boldy
Free portfolio and blog theme for creative professionals.
Diary/Notebook
Clean, beautiful looking Diary Theme for your everyday life.
JournalCrunch
A theme for magazines or portfolios with an integrated journal.
Prosume
Simple, responsive, out-of-the-box theme for your blog, with portfolio templates.
Shells WordPress Theme
Search Shells Blog WP template? No problem, you have found an excellent Shells WordPress template in the free wordpress themes 2015 collection.
Drums WordPress Template