HTML5 site templates and so WordPress HTML5 themes are very handy themes that have been developed using the latest markup technology of HTML. HTML5 gives you the best and powerful features that you didn't experienced with the old version of HTML. But, as most of the older versions of many browsers aren't supporting HTML5, so you might not feel safe for switching to the new WordPress themes with HTML5 technology.
But you shouldn't take much care about that, the majority of the audience isn't using old browsers any more. When any WordPress theme is created with the help of HTML5, then theme developers also use a JavaScript framework "Modernizr". This framework is very helpful with HTML5 to find out the required capabilities and offer a fallback solution for browsers in case any browser fail to display HTML5.
We have already shared Top 20 HTML5 Responsive Templates, Top 10 Best HTML5 Audio Players, 15 Useful HTML5 Tutorials and Examples For Beginners, 10 Intensive HTML5 Infographics and 20 Excellent HTML5 jQuery Plugins with you. Also check these out. Following is the list of 30 beautiful HTML5 WordPress themes.
1. Zerif Pro – One Page WordPress Theme
Zerif-Pro has a wide range of colors to customize your website. With easy to edit HTML/PHP code you will be making changes like a pro in no time. Got a wide range of visitors who speak different languages? Well the localization tool. If you're not an experienced developer the Theme Options Panel will help you update your logos and other parts of your site easily. Browser compatibility is also not an issue since this theme can be view via the most popular ones.
2. Arkitek – Business WordPress Theme
Arkitek is a premium WordPress theme built especially for architecture or construction companies. If you're not an experienced developer the Theme Options Panel will help you update your logos and other parts of your site easily. Browser compatibility is also not an issue since this theme can be view via the most popular ones.
3. Business Theme
The Business theme is the ideal platform from which to launch a new business website. This theme was designed by the team at Nimbus Themes to put the important things first – your products or services will be front-and-center, along with your team and clients. Don't let your WordPress theme distract your visitors from what's really important. Put your business first with the Business theme.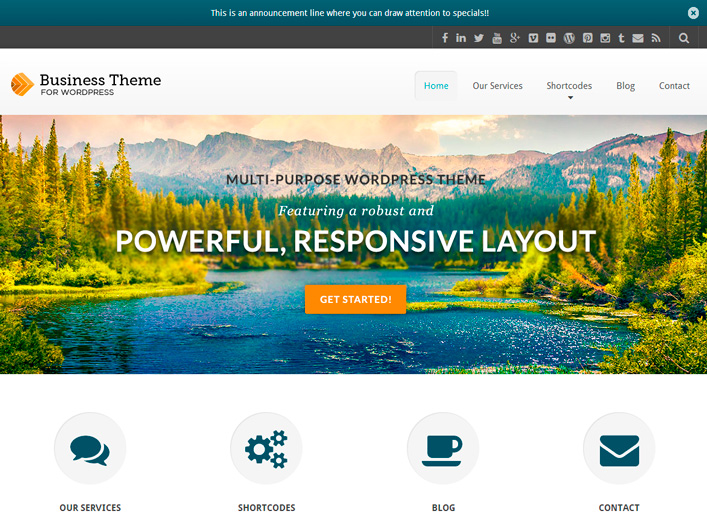 4. Simple Business
The Simple Business theme offers all the tools you need to build a beautiful, simple business website that will take your company to the next level. It was painstakingly designed to allow your business to take the limelight. Choose from hundreds of theme options, including fonts, colors, and layouts.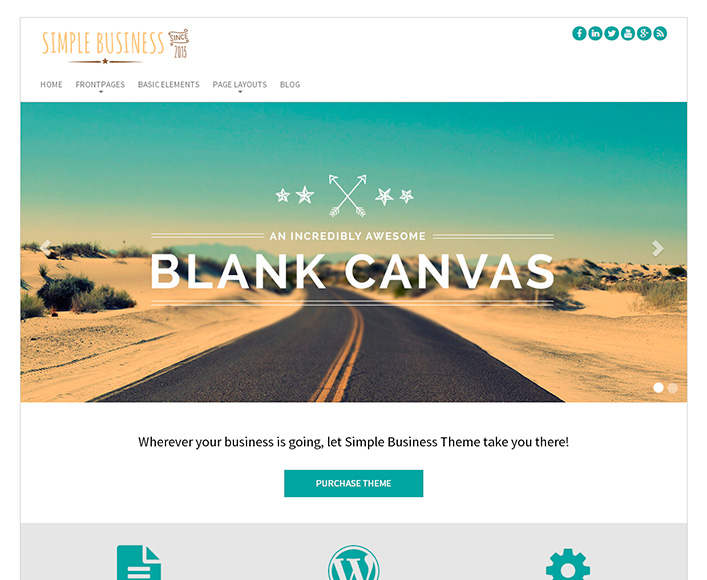 5. Soliloquy
The Soliloquy theme is the ultimate image-forward design for your business website or personal blog. This theme has been downloaded thousands of time and has received rave reviews because of its beautiful design and range of theme options.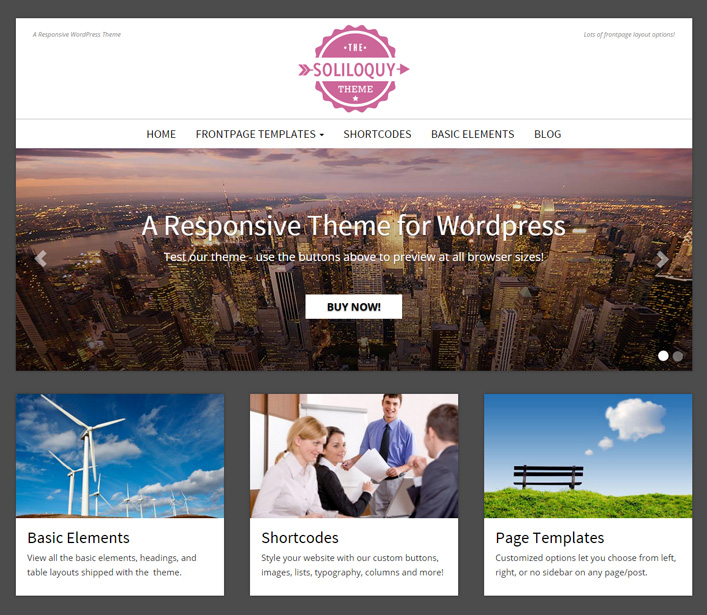 6. Simple Theme
The Simple theme offers a perfect palette on which to build your business website. Use the powerful theme options panel to choose from hundreds of fonts, and thousands of color combinations. This theme offers beautiful frontpage banner options, including slideshows and parallax banners.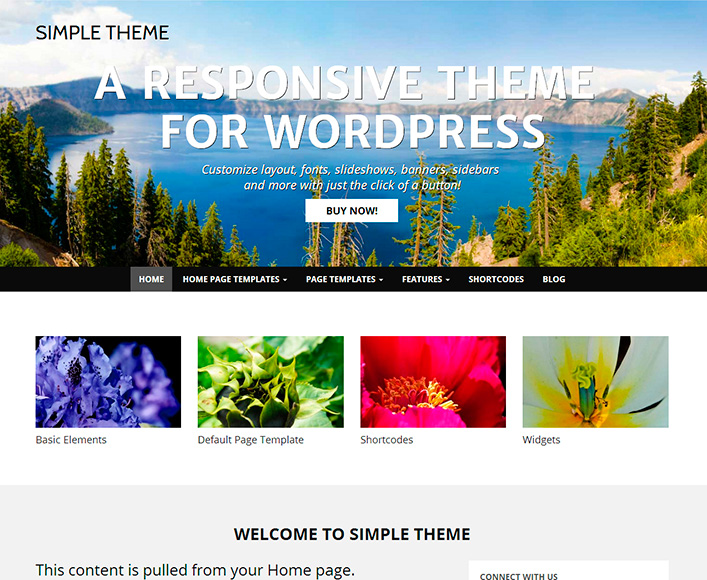 7. Intense Multipurpose HTML
No matter if you are an experienced web developer or you are just taking your first steps in the field of web design, Intense multipurpose website template from TemplateMonster is just what you need to get your web project started. This fully packed HTML5 template was loaded with 150+ pages for literally any purpose that you can imagine. There you will find ready-made page templates for all components of a blog, portfolio, eCommerce or any other site. Do you need to tweak the layout? Not a problem. The pack was also pre-loaded with a host of pre-designed layouts for multiple pages of your website.
When choosing Intense, you will get lifetime system updates and free 24/7 support. The theme includes an ever-growing collection of child themes, website skins, pages and layouts. The release pack included 2 premium plugins that the theme's owner can use for free. However, with time the collection will be expanded with 18 more premium solutions. In a word, Intense includes everything that a web developer, DIY user or a web designer might be looking for in a theme. Go ahead and see it for yourself.
8. PixelPower – Responsive HTML5/CSS3 WordPress Theme
PixelPower  is a simple, modern and robust WordPress tumblog-style theme designed for a wide variety of uses from bloggers to design portfolios. Made with latest CSS3 and HTML5 technology.
9. Marskar – Responsive HTML5/CSS3 WP
Marskar Responsive HTML5/CSS3 WP is a clean and simple but still professional & powerful template suitable for any business or portfolio, and it's created by using the latest HTML5 and CSS3 techniques.
10. Pandora — Responsive WooCommerce HTML5 Theme
Pandora is a responsive WooCommerce HTML5 theme with modern and smooth effects. Pandora is a highly customizable and unique blog style theme for WordPress.
Smartify – Single Page WordPress HTML5 Portfolio
Smartify is Single page HTML5 Portfolio WordPress theme perfect for web designers and developers who want to have clean and minimalistic design to represent their work.
Serrano – Corporate Creative WordPress HTML 5 Theme
Serrano is a corporate and fully valid HTML5 theme with all the features you need for your next corporate project.
Focus – Unique Creative Responsive WordPress Theme
Ultimate – CSS3 & HTML5 WordPress
Ultimate CSS3 & HTML5 WordPress theme comes up with 7 different shortcodes, 6 different page templates, 5 different post formats, gallery page templates, image sprites for better performance and liquid layout.
Liwa MultiPurpose HTML 5 Template
Liwa MultiPurpose HTML 5 Template is a Responsive, HTML5/CSS3 theme that features a clean and slick design that is suitable for Corporate and Online Store
Estancia – Responsive WordPress HTML 5 Theme
Estancia WordPress HTML5 theme features a fair amount of shortcodes, 3 homepage variations, 6 custom widgets, threaded comments, native HTML5 audio or video support, Ajaxified contact page and numerous CSS3 enhancements.
NASH – Responsive HTML5 One Page WordPress Theme
NASH is a creative one page WordPress theme for design agencies. Gorgeous iconography and beautiful typography will help you to the render the content in a beautiful way.
KULA – Responsive HTML5 One Page WordPress Theme
The template is fully responsive, and looks amazing on your desktop, smartphone and. Beautiful typography, gorgeous iconography, subtle CSS3 effects, and those small details that really make you stand out from the crowd.
Clinto – HTML5 Responsive WordPress Theme for Events
Clinto HTML5 website templates if best for concerts, exhibitions, fairs and festivals. This is a user Grable WordPress theme with huge slideshow, quotes and background images.
AREA53 – A Responsive HTML5 WordPress Theme
AREA53 is Responsive up to mobile. Your visitors with a mobile or tablet will get a optimized version for their device. Optimized for iPhone, iPad and other common mobile devices.
Rudder – Responsive HTML5/CSS3 Lifestyle Blog
Rudder is designed to help you get your site up and running quickly by taking advantage of built in WordPress functionality and avoiding dozens of useless, complex option screens.
Akita Responsive WordPress Theme
Akita is a fresh and good looking business theme for WordPress that features  all the awesomeness you'd expect from a theme built on the Theme Blvd Framework.
Barely Corporate Responsive WordPress Theme
Website – Responsive WordPress Theme
Website is a responsive theme, which means it adapts to the device on which it's displayed and made with HTML5 for the great look.
Metro Rox WordPress Theme